Why would God try to keep Adam and Eve from the knowledge of good and evil?
Wouldn't that allow them to remain ignorant, almost like children, lacking true understanding? Wouldn't that keep them immature, making them more open to the Devil's schemes?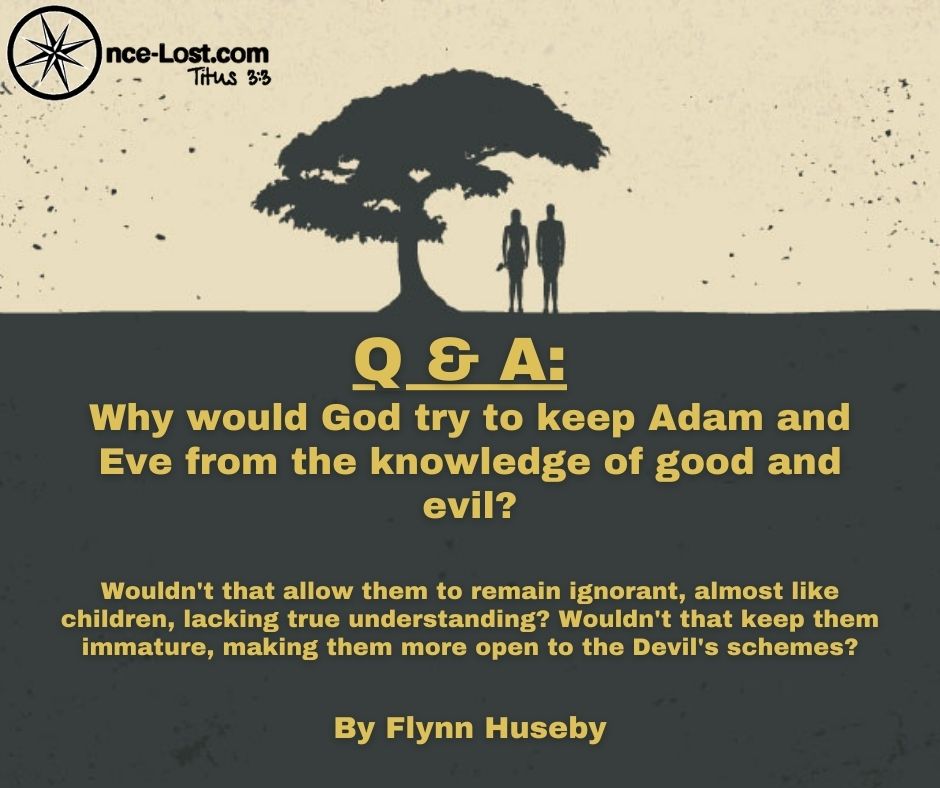 Thanks for the great question. I believe many people have the same concern. A while back, someone told me quite emphatically that Adam and Eve needed to sin, gaining the knowledge of good and evil, or else they would've been like little children in their thinking their whole lives. The person then compared Adam and Eve never sinning to that of a child never growing up. "What parents would want their child to stay eternally infantile?" he questioned. While this might seem somewhat logical, but when examined biblically, we'll see it falls terribly short.

To begin looking into the answer, we must first consider what Adam and Eve gave up in order to gain the knowledge of good and evil. We often view their action from our worldly, post-sin perspective, thinking their choice was somehow a gain, rather than a loss. So what did they lose? Scripture is clear. Prior to sinning, they had full and free access to the Tree of Life, and even more importantly, they had free access to God Himself.

In truth, when God commanded them not to eat of the Tree of Knowledge of Good and Evil, He wasn't withholding knowledge from Adam and Eve to selfishly keep them in a state of ignorance. Adam and Eve were created fully mature adults with incredible intellect. After all, they were perfect. God told them they could freely eat of every tree in the Garden of Eden, except the Tree of Knowledge of Good and Evil. His desire wasn't to keep them infantile, but rather to prevent them from trading the knowledge of God for the knowledge of good… and evil.

Adam and Eve had free and daily access to the perfect goodness of God, so God clearly wasn't keeping them from goodness, rather from man-made goodness apart from God's truth and love. Adam and Eve's choice for the knowledge of good and evil is, in part, seeking the ability to make up their own rules apart from the Lord. Their choice was like a player in a football game desiring to change and make up new rules along the way, rules that suit and glorify the player. Man was not created to invent his own rules, after all, who is smarter than God? Who could make better laws than the all-powerful, all-knowing Creator of the universe?! Man selfishly and foolishly traded the goodness of God for devilishly deceptive and man-centered goodness. How tragic!

The other truth to consider is man's desire to not only develop their own goodness but also know and embrace evil. Some have argued the necessity of mankind to familiarize himself with evil in order to grow beyond an ignorant existence, however, what parent would prefer their child become knowledgeable with the evils of this deceitful world? Which parent would allow their child to search the dark web in hopes of having them grow more familiar and experienced with wickedness? The answer is simple, none! How much truer for God? In Romans 16, we're reminded of the Lord's heart, "I would have you wise unto that which is good, and simple concerning evil" Romans 16:19.

The glorious and loving Creator of mankind gave Adam and Eve a very simple and needful command. He gave them a choice… Life or death. He desired to fill them with His truth and love and keep them from man-made goodness, perpetual evil, and a life of death, a life separated from God. When we examine God's design and original intent biblically, we begin to realize God wants nothing but the best for us. And yet, we sadly continue running to everything but God and His gracious Son, Jesus Christ.

Instead of viewing God's original command not to eat from the Tree of Knowledge of Good and Evil as a loss, and Adam and Eve's choice to sin as a gain, the truth is the complete opposite. God's desire is never to keep us in the dark, but rather to keep us close to Him, the true Light of the World. Jesus wants to keep us from evil and the evil one, allowing us to know the One who is perfectly good and eternal life.

The mystery of it all is why anyone would choose to disobey God in the first place. Why would Adam and Eve choose to reject the perfect God and all His wonderful and eternal goodness in the hopes of getting something better than Him? Pride is at the heart of it, but there truly is absolutely no reasonable answer to our foolhardy rejection of the Lord. The Bible calls it the mystery of iniquity (2 Thessalonians 2:7) because there is absolutely no answer for our rebellion against our Creator. Instead of turning aside from the true and living God, may we align our hearts and minds with God's awesome and eternal Word, embracing the truth and love of Jesus. Let us align with God's wonderful word, never forgetting there is nothing more beautiful, nothing more awesome than our Lord!
"The LORD is my shepherd; I shall not want. He makes me to lie down in green pastures: He leads me beside the still waters. He restores my soul: He leads me in the paths of righteousness for His name's sake… Surely goodness and mercy shall follow me all the days of my life: and I will dwell in the house of the LORD forever." Psalm 23:1-3,6